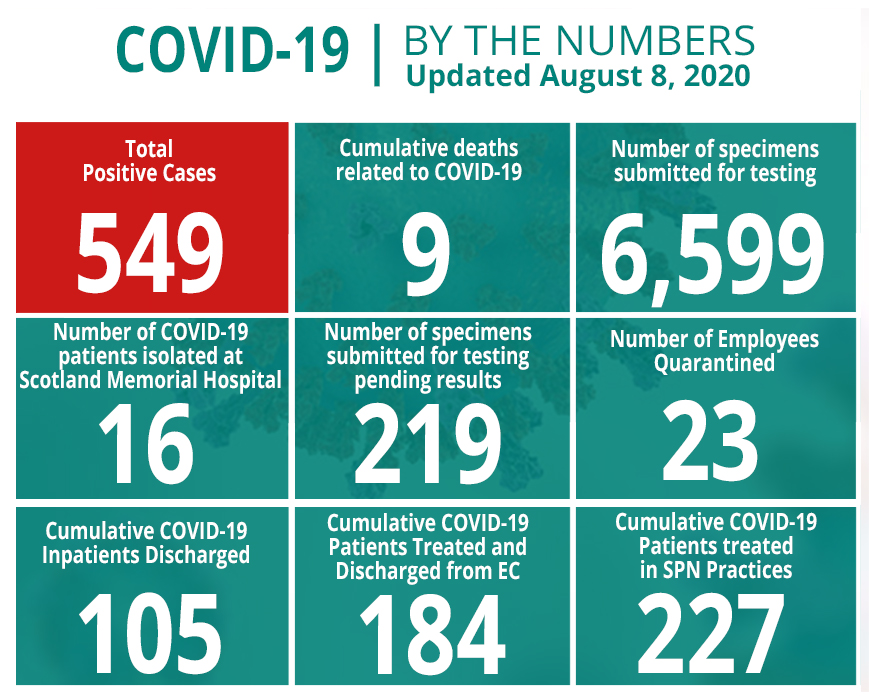 UNDERSTANDING THE NUMBERS
The daily "By The Numbers" posted by Scotland Health Care System (SHCS) reflect system-wide data only. Please check your state health department websites for specific numbers for your county.
Total Positive Cases - A total number of tests from the hospital, Scotland-owned practices and drive thru with positive results. These cases will be reported to the health department for the county it is allocated to. We currently serve patients from Marlboro, Scotland and Robeson Counties along with other surrounding communities. The total number reflects all system-wide positive cases as a whole. We do not break down data by patients' county of residence. Please refer to the state websites listed at the top of this page to see county by county data.
Cumulative Deaths related to COVID-19 - A total number of Scotland Health Care System patients who pass away after testing positive for COVID-19. We do not break down data by patients' county of residence. Please refer to the state websites listed at the top of this page to see county by county data.
Number of Specimens Submitted for Testing - This is the number of all COVID-19 tests administered by SHCS. This number accounts for all tests from the hospital, Scotland-owned practices and drive thru tests.
Number of COVID-19 Patients Isolated at Scotland Memorial Hospital (SMH) - This is the number of patients currently admitted into isolation at SMH and have tested positive for COVID-19.
Number of Specimen Submitted for Testing Pending Results - Total number of tests from the hospital, Scotland-owned practices, and drive thru that are pending results.
Number of Employees Quarantined - A total number of employees who have been quarantined because they were or have potentially been exposed to COVID-19. This is not necessarily due to exposure at work. This could be community spread related.
Number of Inpatients Discharged - This number reflects the total count of patients who were admitted into the hospital, tested positive and have been discharged home to self-isolate.
Number of Patients Treated and Discharged from EC - This number reflects the total number of patients who have been seen in the SMH Emergency Center and were tested, treated and discharged. We do not break down data by patients' county of residence. Please refer to the state websites listed at the top of this page to see county by county data.
Number of Patients Treated at SPN Practices - This number reflects the total of patients who were treated at any of our Scotland-owned practices that tested positive, were treated and have been discharged home to self-isolate. This includes all family practices, specialty practices, Scotland Urgent Care Center and Marlboro's Urgent Care Center.
COVID-19 Risk Assessment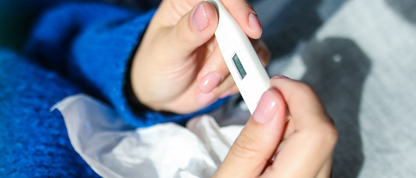 Scotland Health Care System has launched a free COVID-19 risk assessment. If you think you are experiencing symptoms related to the Coronavirus, please click the button below to take the free assessment.
Not a substitute for professional medical advice, diagnosis, or treatment. Always consult a medical professional for serious symptoms or emergencies.
Postponements/Cancellations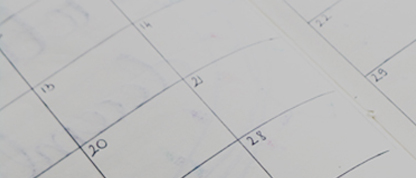 3/23 Scottish Pilot Club at Scotland Cancer Treatment Center - Cancelled
3/27 Just A Talk at Scotia Village - Cancelled
4/21 Diabetes Support Group at the Dulin Center - Cancelled
4/25 FunD Run - Will be offered virtually
4/30 Women's Health Series Event in Bennettsville - Cancelled
5/5 and 5/6 Scotland Regional Hospice Golf Tournament at Scotch Meadows Country Club - Postponed TBA
Spring 2020 Pregnancy Fair at the Dulin Center - Cancelled
March 15, 2020
Economic Alliance to Recovery (EAR) Intro
May 12, 2020
Scotland health employee tests positive for COVID-10
A Scotland Health Care System employee has tested positive for coronavirus as of Sunday.
"This employee was exposed to a positive family member and linked to community spread. There is no indication this employee was exposed to the disease at work or has exposed any patients at Scotland Health," stated Dr. Cheryl Davis, chief medical officer. "This employee proactively self-reported their symptoms prior to beginning their work week, immediately went for testing, and was required to quarantine pending results."
Scotland Health has strict protocols in place for screening all staff entering their facilities including temperature checks and symptomatic questions to protect staff and patients from COVID-19 exposure. Staff are self-monitoring for symptoms and asked to check and record their temperature per day. Visitor restrictions and universal masking also exist for anyone entering a Scotland Health facility.
"As North and South Carolina begin to enter a new phase by relaxing restrictions, there is potential for a surge of COVID-19 patients," said Greg Wood, hospital president and CEO. "We recognize that health care employees are at the same risk of community-acquired exposure as the rest of the community.
"We are continually communicating to our staff how important it is to remain vigilant inside and outside of work during this time to ensure our patients are protected," he added.
May 5, 2020
Scotland Health announces first coronavirus deaths; CEO urges public to take threat seriously
During this pandemic Scotland Health Care System has committed to transparently reporting coronavirus updates. Today, with great sadness, Scotland Health Care System announces the first two patient deaths related to COVID-19 – one passed away at Scotland Memorial Hospital and the other at Morrison Manor, the health care system's inpatient hospice facility. Both patients, one male and one female, resided outside of Scotland County.
"Our hearts are with these families as they mourn their lost loved ones," stated Greg Wood, President and CEO. "Unfortunately, this is a realistic consequence of this current pandemic that is happening everywhere. It gets very personal when it happens in your health care system. Our staff cared for these individuals and their families for many days and is also saddened by their passing. Our providers and staff are committed to doing their part to control this public health threat and we need our communities to do the same."
Mr. Wood concluded by urging the public not to relax their social distancing behaviors even though the current number of cases locally are low, and the Governor may relax restrictions.
May 2, 2020
Scotland Memorial Hospital Nationally Recognized
Scotland Memorial Hospital has earned back-to-back "A" grades on the Leapfrog Hospital Safety Grades announced May 1 by The Leapfrog Group, a national distinction recognizing Scotland's achievements providing safer health care. Scotland received this award for the Fall of 2019 and most recently for the Spring of 2020.
The Leapfrog Group is an independent national watchdog organization committed to health care quality and safety. The Safety Grade is a letter grade assigned to all general hospitals across the country and updated every six months, assessing how well the hospital prevents medical errors and other harms to patients.
Greg Wood, CEO states, "At Scotland Health Care System, safe and high-quality care are the most important pillars of our system. We are committed to being a highly reliable organization that patients can trust with one of their most precious valuables, their health. As we continue to fight against COVID-19, we want to thank and appreciate all our medical staff and associates for their hard work and dedication. It is because of their tireless commitment that we continue to make strides in quality and patient safety."
"As the Nation copes with a challenging pandemic, our gratitude extends to hospital leadership and health care workers everywhere for their tremendous dedication," said Leah Binder, president and CEO of The Leapfrog Group. "We hope this 'A' helps to thank the people who work and volunteer for Scotland Memorial Hospital. They are role models in putting patients first, and their service has been extraordinary in our country's time of need."
Developed under the guidance of a national Expert Panel, the Leapfrog Hospital Safety Grade uses up to 28 measures of publicly available hospital safety data to assign grades to more than 2,600 U.S. acute-care hospitals twice per year. The Hospital Safety Grade's methodology is peer-reviewed and fully transparent, and the results are free to the public.
Scotland was awarded an 'A' grade today for the second time, when Leapfrog updated grades for spring 2020. To see Scotland's full grade details and access patient tips for staying safe in the hospital, visit hospitalsafetygrade.org and follow The Leapfrog Group on Twitter and Facebook.
May 2, 2020
Marlboro Family Practice and Urgent Care is delivering you safer care that is better by far.
April 29, 2020
Letter From Our CEO
I am extremely proud of how hard our staff has worked over the past two months to begin treating and preparing for an expected surge of COVID patients. Our preparation started by stopping all but critical services to focus on this as well as minimize the spread of the virus. This reduction of services has resulted in many patients postponing needed care for serious health conditions.
Thankfully, the number and severity of COVID patients we are treating is significantly lower than we had initially feared, and a surge that will overwhelm us will not occur. We are confident that our extensive efforts have resulted in sufficient supplies, treatment space, testing, and increased infection control practices to treat the expected amount of COVID patients needing care. We are grateful that our community is heeding the call for social distancing and our curve is flattening. Other similar rural communities have not been as fortunate.
As a result, after much planning, we have begun carefully expanding the services provided in our hospital and practices to those that have delayed needed care. I want you to know that we can do this very safely. Within the hospital, we can quickly test patients being admitted or scheduled for surgery and we screen all staff and patients coming into the building. In our physician practices, we are treating patients in the most appropriate setting including treating sick patients virtually or in our parking lots. Universal masking protocol is occurring in all locations. A gradual expansion will allow us to closely monitor key indicators to ensure new guidelines are adhered to and pause if there is a sharp increase in COVID cases.
If you have been postponing necessary care, know that all our facilities are now safer than they have ever been, and you do not need to wait any longer. Please be assured that the safety of our patients and staff remains our top priority as we increase our ability to care for our community.
Thank you for your trust and support of us through this challenge and the faith you have in your community's health care system.
Gregory C. Wood
President and Chief Executive Officer
April 29, 2020
Safer Care, Better By Far
April 28, 2020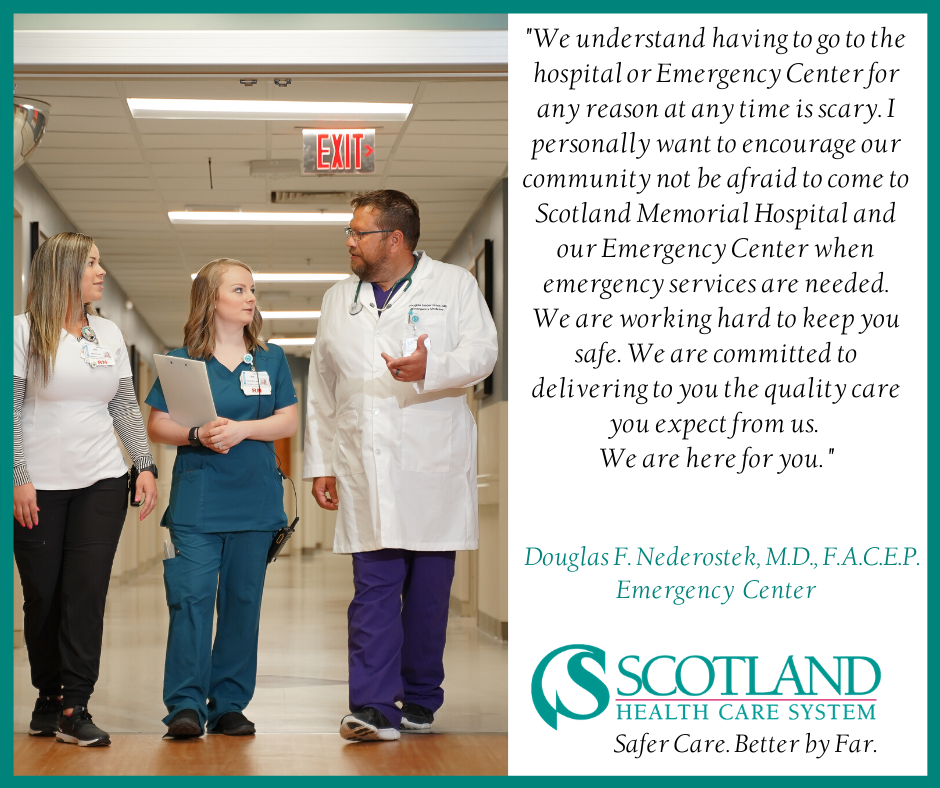 April 9, 2020
Scotland Health is Prepared
As we endure the coronavirus crisis together, Scotland Health Care System wants to reassure our community that they should not be afraid to come to the Emergency Center when emergency services are needed. We are taking every precaution available to provide a safe environment for patient care. At Scotland Memorial Hospital every morning, our hospital incident command meets by video conference. This team of leaders reviews the latest developments with this situation and makes sure the Scotland Health Care is responding appropriately.
We have enacted strict visitor policies and screening procedures over the last few weeks to help prevent any patients, associates or visitors with symptoms that could be from COVID-19 from entering any Scotland-owned facility. Drive-thru screening tents have been set up on the SMH campus to test patients who have a COVID-19 order from a physician. This procedure is eliminating patients from entering facilities to be tested.
Scotland Physician Network has added phone and virtual visit options for primary care and specialty care practices. We have seen an increase in utilization for those methods over patients physically coming into the practices. We continue to encourage our patients to keep their in-person appointments if they feel they need to have a face to face interaction with their provider. If there are any questions about visit options, patients are asked to call their providers' practice and inquire about which option is best for them.
Scotland Health wants to make sure that our community is aware that we continue to provide safe, high quality and compassionate care to our patients. Scotland Health has worked tirelessly over the past several weeks to prepare to protect our community. We believe that we are as prepared as we can be.
April 6, 2020
To keep our patients safe, Scotland Physicians Network (SPN) has implemented an option of Virtual Visits in addition to the telephone visits which are already taking place. The addition of virtual capability will create convenience and access to our primary care and specialty care clinics. Scotland is taking every approach available to offer convenient care for our patients as we continue to social distance and create multiple ways for patients to have access to their doctor without having to make an in person visit.
Virtual Visits will be available during regular business hours. The Virtual Visits will provide live access to a provider through a camera-enabled tablet, smart phone or computer. Visits require an appointment and those will be made by calling the SPN practice. Prescriptions and refills can also be given through Virtual Visits at the discretion of the provider. Virtual Visits will also be offered by both of Scotland's Urgent Care practices in Laurinburg and Bennettsville.
Participating practices include:
Carolinas Vascular Associates
Harris Family Practice
Laurinburg ENT
Marlboro Family Practice and Urgent Care
Marlboro Ob/Gyn
Marlboro Surgical Associates
Maxton Family Practice Center
Pembroke Family Practice Center
Scotland Surgical and GI
Scotland Urgent Care Center
Wagram Family Practice
Wolonick Family Practice
Women's Health Center of the Carolinas at Laurinburg
Women's Health Center of the Carolinas at Pembroke
Scotland's patient portal, MyScotlandHealth, is available 24 hours a day 7 days a week for patients. MyScotlandHealth is a safe and secure online program offered by Scotland Health Care System that enables patients to manage their health care by accessing lab results, exchanging messages with your doctor or refilling prescriptions in one convenient location.
To receive your access code, you will visit myscotlandhealth.org and select sign up now. You will enter your information and will receive an activation email within 48 hours. After completing your registration, you will have access to many benefits MyScotlandHealth has to offer.
View lab results and test results
Refilling prescriptions
Messaging your care team
MyScotlandHealth will be accessible by computer or by downloading the MyChart app on your Apple or Android device and selecting Scotland Health Care System. Our support team for MyScotlandHealth will be available Monday through Friday from 8:00 am – 5:00 pm by calling 1-910-291-7507.
April 3, 2020
A Message from our CEO
Friends,
I have lived and served our community as CEO of its health care system for 30 years and I have never been more gravely concerned for our community than I am at this moment. Many of our citizens will contract the virus and some will die from it. How many is up to each of us.
Ten days ago, I appealed to our community and its leaders to Stay at Home to minimize the spread of the Coronavirus. I expressed concern about our health care system's ability to handle the crisis under the best of circumstances and the potentially tragic impacts forecasted for our community. With the critical period of the next few weeks here, I am writing again to appeal for everyone's support.
You can be proud that your Scotland Health team has worked tirelessly over the past few weeks to ready ourselves to protect our community. We are as prepared as we can be. As of Friday, we have only had one coronavirus case in our County and only one hospitalization. The decisions to close the schools, shelter non-essential businesses and services and our initial social distancing efforts have helped. Hopefully "the curve is flattening" but there is still too little social isolation occurring.
When will the surge hit and how large will it be? If we do not socially isolate better, it will be soon and overwhelming. If we go out only when we must, keep maximum distances when we do, fewer will be infected, deaths will be reduced, and our health care system will be able to handle the surge.
My staff and I challenge each of you to examine your behavior and socially isolate. The lives of our friends and neighbors and the viability of our health care system depend on it. Help protect this community we all so dearly love.
Thank you,
Gregory C. Wood
President & CEO
March 27, 2020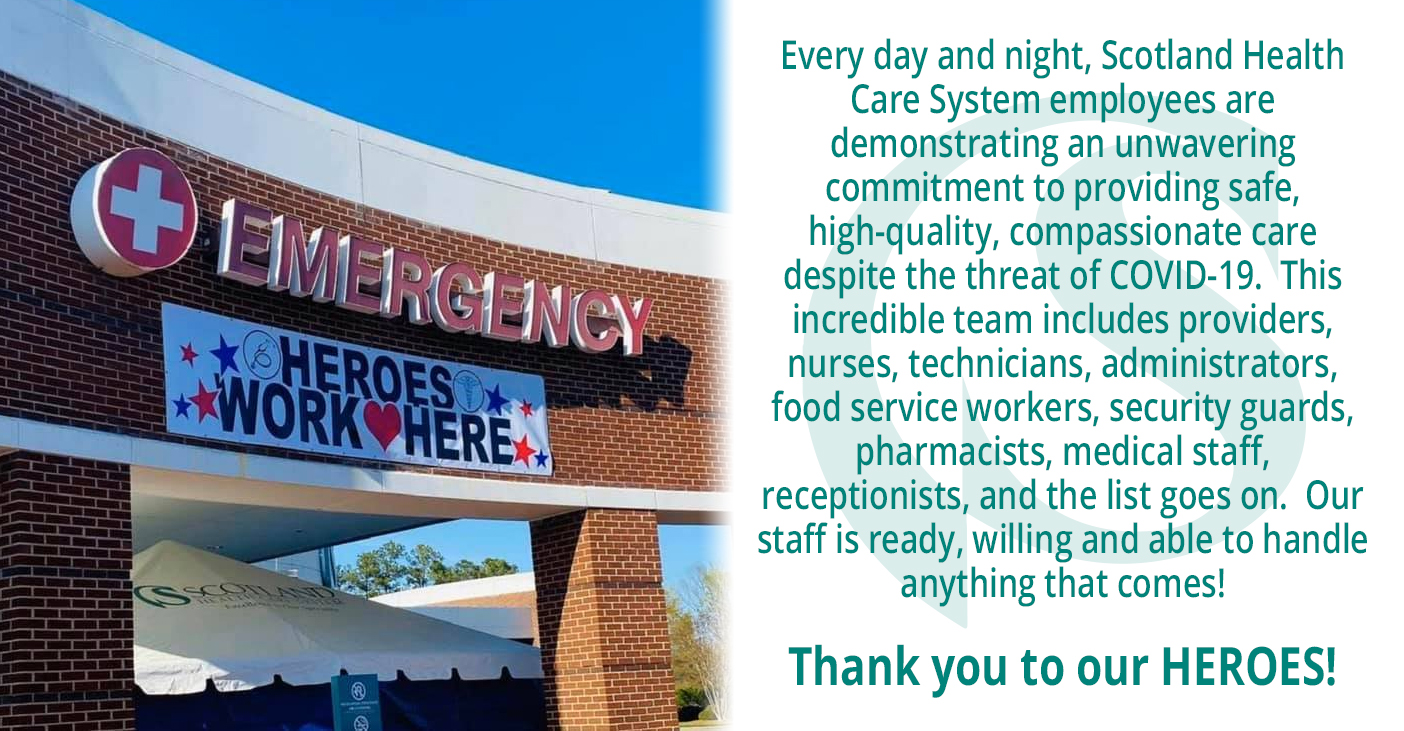 March 25, 2020
This week, Scotland Health Care System has implemented three services in an effort to reduce the spread of respiratory illness.
Primary Care Visits by Phone
On Monday, Scotland Health Care System began conducting primary care visits by phone. Several established patients of the Scotland Physicians Network's primary care practices were able to receive guidance from their health care providers over the phone rather than visiting an office or the emergency department. Since the phone visits are generally done from the patients' homes, there is no risk of being exposed to the coronavirus.
The program's first day was a success and Scotland Health encourages those needing acute-level care to contact their provider's office and set up an appointment for a phone visit.
Anyone who is experiencing flu-like symptoms, has traveled to a high-risk area or has come into contact with someone who is positive for COVID-19, may need to be tested. You do not necessarily need to go to the Emergency Department to be tested for COVID-19. You may call your primary care physician to coordinate your testing.
Triage Tent
Scotland Health has also opened an alternate care site for patients exhibiting symptoms of COVID-19. This temporary site will be set up outside of the Emergency Department entrance and will be used to screen patients who are exhibiting symptoms of possible COVID-19 and seeking emergency treatment.
Fever, cough, shortness of breath and other symptoms will be assessed in the tent. Patients will also be asked about their travel history. The tent is a way to limit the exposure between individuals suspected of having respiratory illness from other patients and health care providers.
If medical personnel determine that a patient is a "person of investigation" for COVID-19, that patient will be given personal protective equipment and escorted to a negative pressure room inside the hospital. Once isolated in the hospital, the patient will be swabbed, and that sample will be sent to the state lab.
If the patient's symptoms do not require hospitalization, the patient will be asked to self-quarantine at home. If his/her symptoms are serious, the patient will be hospitalized and treated accordingly.
Drive Through Testing
Scotland Health also opened its Drive-Through Testing Center on Tuesday morning. The drive-through testing center allows individuals with an order from a physician for COVID-19 testing to drive up to Scotland Memorial Hospital's Dulin Center and be tested while remaining inside of their vehicle. Currently the service is being provided on Tuesdays and Thursdays from 9am to 4pm.
Turnaround time for test results is estimated at 5-6 days.
For more information on Scotland Health Care System's changes in services or if you have questions concerning the Coronavirus (COVID-19), please call the COVID-19 Helpline at (910) 504-8990. This helpline is available during the hours of 8am and 5pm Monday through Friday.
---
March 25, 2020
Message from our CEO to the Community
We have been regularly communicating all the activities underway here to prepare us to handle the impact of the Coronavirus on our community and health care system. I am gravely concerned, however, that all our preparations may not be enough as current predictions and models indicate that the expected number of patients needing hospitalization, and especially ICU level care, will greatly overwhelm our providers, staff, facilities, and equipment. Community spread of this virus has begun and how well we distance ourselves from others over the next 3 weeks will greatly determine how extensive the virus spreads and how many patients need hospitalization. Our community must increase our social isolation behaviors immediately to prevent our health care system and our patients from facing the same catastrophic outcomes that we are seeing throughout the world and now our country.

I understand the economic and social consequences underway but there is nothing more important than saving the lives of others in community. On behalf of all the health care professionals of your community's health care system, please Stay at Home unless you need to go out.

Thank you.

Gregory C. Wood
President & CEO
Scotland Health Care System
---
March 21, 2020
Scotland Health Care System has reported its first patient to test positive for the coronavirus. The patient was not seen in our hospital, rather the patient was treated at one of our physician practices and was discharged home to self-quarantine. It is important to note that this case was travel related.
Our team of health care professionals are working with local health authorities to determine what steps should be taken next. We will continue to monitor the situation and work together to keep our community informed and safe.
For privacy and safety reasons, information about the individual is limited, but efforts are being made to identify all of those who may have come into contact with the patient.
Scotland Health Care System is committed to limiting the spread of the virus, so the following restrictions are still in effect:
NO visitors will be allowed into Scotland Memorial Hospital except under extremely limited circumstances.

Patients in the provider practices are only allowed one visitor in the building during the visit.

All visitors will be screened and not permitted to enter if experiencing respiratory or flu-like symptoms.

The hospital's cafeteria and gift shop will not be open to the general public.
Our team is working around the clock to serve our communities' health care needs. We urge everyone to follow these basic preventative actions to help prevent the spread of respiratory viruses like COVID-19:
Wash hands frequently with soap and water for 20 seconds or more.

Use alcohol-based hand sanitizer when soap and water are not available.

Avoid close contact with people who are sick.

Avoid touching your eyes, nose, and mouth.

Stay home when you are sick.

Cover your cough or sneeze with a tissue, then throw the tissue in the trash.

Clean and disinfect frequently touched objects and surfaces using a regular household cleaning spray or wipe.
Scotland Health offers a COVID-19 Helpline for our community members, who understandably are concerned and may have questions. Please dial 910-504-8990 should you need information regarding the current situation during the hours of 8 am-5pm Monday-Friday.
March 21, 2020 Response to first Scotland County related case
March 19, 2020 Dr. Cheryl Davis provides an update on SHCS changes in services in response to COVID-19
---
March 18, 2020
As the situation with COVID-19 continues to develop around the world, Health care systems' responses are evolving. In accordance with current guidance from national and state health leaders, Scotland Health Care System (SHCS) is implementing several changes to protect our patients and providers.
SHCS is cancelling non-essential surgeries, procedures and rescheduling ambulatory appointments effective Thursday, March 19, 2020. All emergency and essential services will continue uninterrupted.
Cancelling or rescheduling these appointments is an effort to minimize risk of spreading COVID-19 among patients, visitors and healthcare providers. Additionally, it allows the health care system to conserve critical resources and focus care on those that need it most.
Patients who fall into this category will be contacted by their providers' offices to receive further instructions. If patients have specific questions, they should reach out to their provider to understand how this decision might impact their appointment or procedure.
In addition, SHCS is also enhancing restrictions on visitors to all our facilities. No visitors will be allowed into Scotland Memorial Hospital except under extremely limited circumstances. Patients in the provider practices are only allowed one visitor in the building during the visit. All visitors will be screened and not permitted to enter if experiencing respiratory or flu like symptoms. In addition, the hospital's cafeteria and gift shop will not be open to the general public. We understand that this change may cause an inconvenience. However, we are doing all we can to stop the spread of COVID-19 and to keep our patients, their families and our associates safe in accordance with current guidance from national and state experts.
In order to provide an additional resource for our community members, who understandably are concerned and may have questions, we have established a COVID-19 Helpline. Please dial 910-504-8990 should you need information regarding the current situation during the hours of 8 am-5pm Monday-Friday.